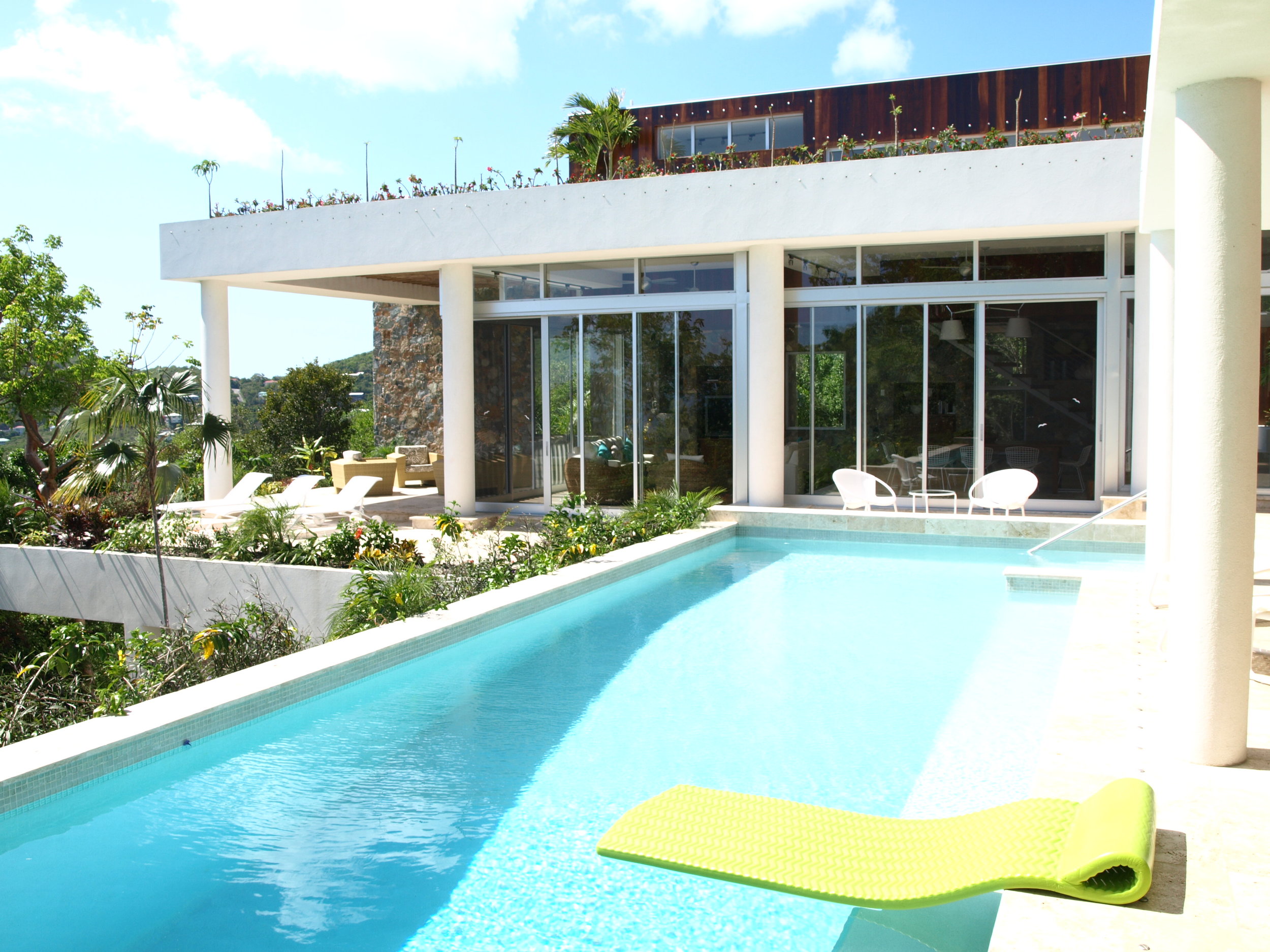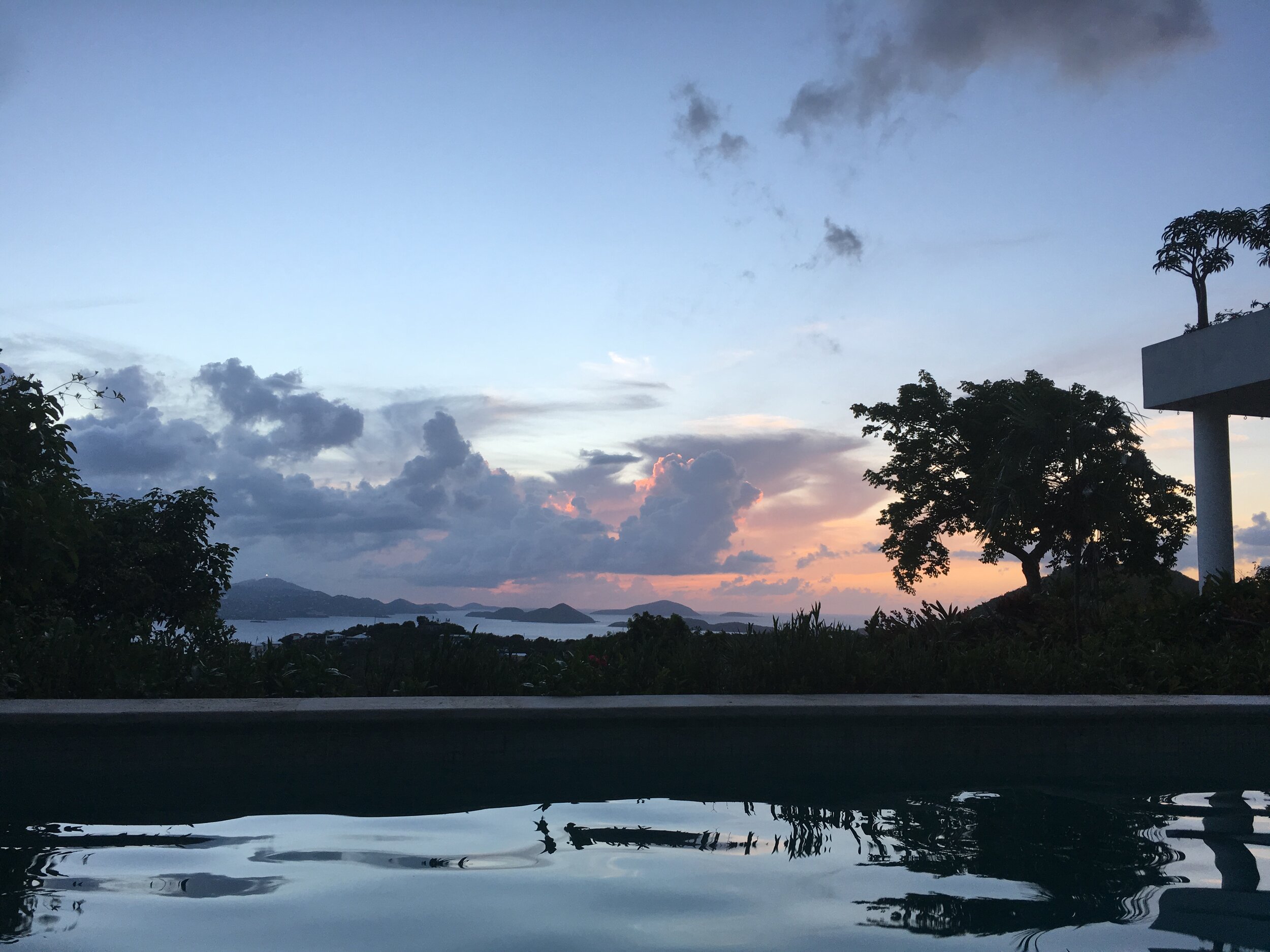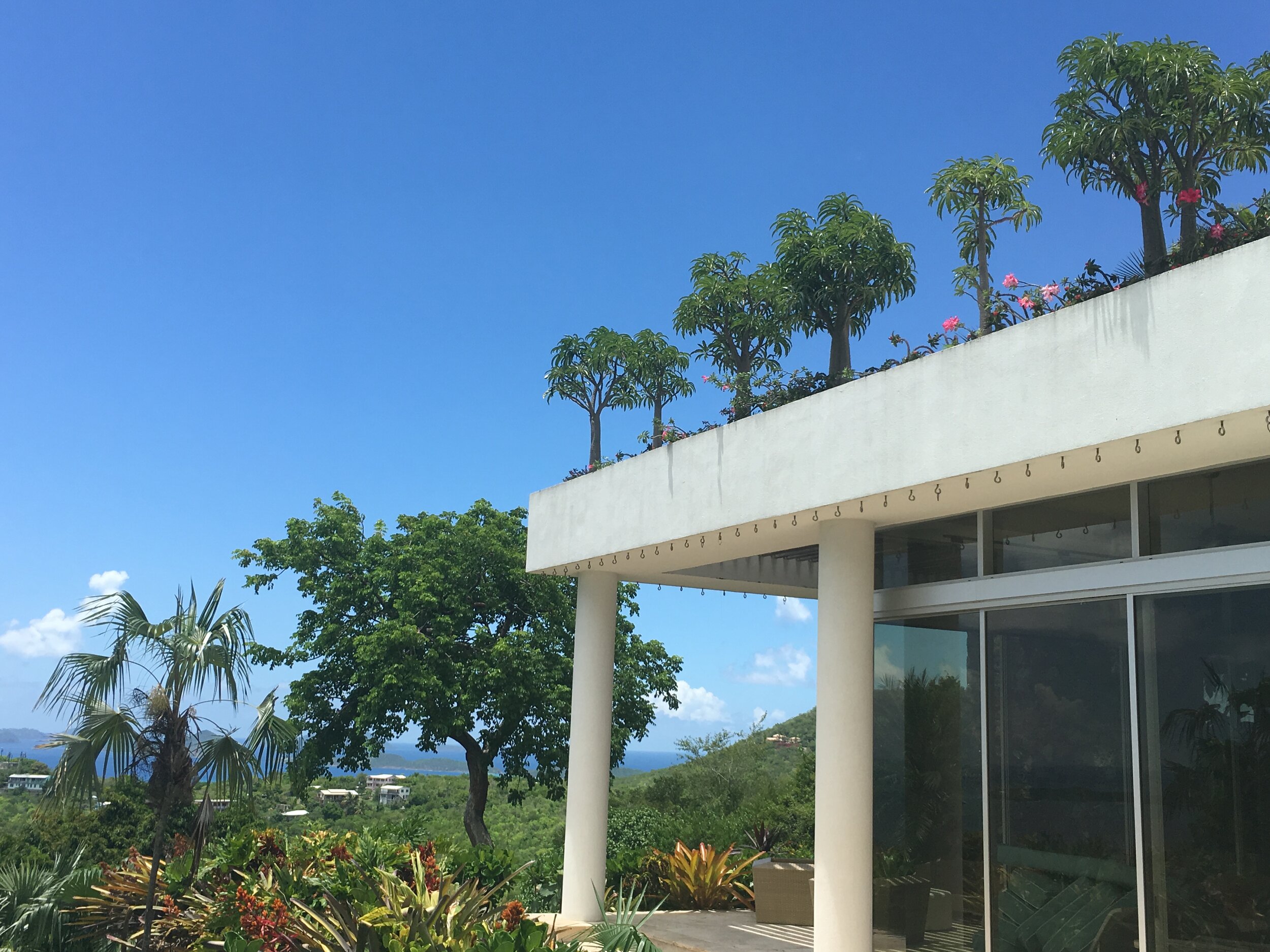 Villa Kalorama is one of St John's most unique and modern vacation villas on the Virgin Islands rental market. in a class of its own, Kalorama is located in the upscale neighborhood of Virgin Grand Estates.
Kalorama has a 14 x 40 foot long pool and is 8 feet deep. The Great Room is 60 ft long x 36 ft wide with sliding glass sinking doors for maximizing views day or night. For entertaining Kalorama is equipped with a State of the art Kitchen with a Sub-Zero refrigerator. The Great Room Features a 50 inch flat screen TV. The upper veranda is 22 ft wide x 40 ft long and is perfect for entertaining during the sunset hours.
This 5 bedroom villa (4 bedroom suites and a 5th bedroom with 2 twins) has air-conditioned bedrooms with Flat Screen TV, ROKU and private bathrooms for maximizing your comfort and privacy in each room.
This villa is available for St. John destination weddings and other special celebrations, up to 45 guests.
Location: Virgin Grand Estates
Max Persons: 10
Max Wedding Guests: 45
Bedrooms: 5
Pool: Yes
Smoking: Outside Only
Low Season Rates:
$6,020/wk 1-4 pp
$6,615/wk 5-6pp
$7,000/wk 7-8pp
$7490/wk 9-10pp
High Season Rates:
$7,805/wk 1-2pp
$8,330/wk 3-4pp
$8,820/wk 5-6pp
$9,205/wk 7-8pp
$9,975/wk 9-10pp
Thanksgiving:
$8,505 per week
Christmas/New Years:
$11,025 per week
Low Season Dates 2019: 4/14/2019 to 12/18/2019
Thanksgiving 2019: 11/23/2019 to 11/30/2019
Christmas and New Years 2020: 12/18/2019 to 1/4/2020
High Season Dates 2020: 12/18/2019-4/18/2020
Low Season Dates 2020: 4/19/2020 to 12/16/2020
Availability Inquiry
PLEASE BE AWARE THAT ST. JOHN ULTIMATE VILLAS NEVER REQUESTS PAYMENTS BY WIRE TRANSFER OR ONLINE CREDIT CARD TRANSACTIONS. IF YOU ARE SOLICITED BY ANYONE FOR ANY OF OUR PROPERTIES AND THEY ARE REQUESTING WIRE TRANSFERS OR ONLINE PAYMENTS, PLEASE CALL US IMMEDIATELY.
Rates are based on cash prices and Double occupancy.
Deposits Vary according to Villa
7 night minimum
Does not include Holiday weeks
Call for details on stays less than 7 nights
VI Hotel tax is 12.5% (Not included in rate)
Rates do not include 4.5% service fees or various Cleaning Fees
No discounts for non-working internet
No discounts for non-working generators
No discounts for non-working hot tubs/jacuzzis